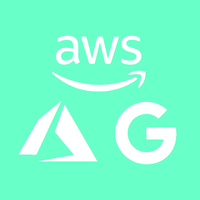 By: Eoghan Nolan
March 14th 2006; the day Amazon Web Services launched and brought the concept of Cloud Computing to the mass-market.
It's hard to imagine a technology company, service or product that, today, doesn't depend on cloud computing. Today cloud computing is no longer a revolutionary new trend in technology, it is just the way business speed up product development, boost operation efficiency, lower infrastructure costs, and make managing data more convenient.
It comes as little surprise that the three internet giants, Google, Microsoft, and Amazon, are turning this in a straight three-way competition. Over the past 3 years, Google Cloud Platform (GCP) and Microsoft Azure have been furiously releasing new services and features to catch up to Amazon Web Services (AWS). Google and Microsoft have managed to claim sizeable portions of the market by specialising their services, but a report by Canalys shows that there's still a long way to go: Amazon still holds over 30% market share while Microsoft has around 15% and Google sits at 5%.
Comparing the Three Big Cloud Service Providers
Amazon: AWS is the largest cloud service provider out there. It's widely considered the most enterprise-ready service, and due to its maturity, there are plenty of training resources available. Though AWS offers a massive toolset for developing and releasing applications, many enterprises find its pricing system unintuitive, and AWS wasn't built with hybrid-cloud implementation in mind, so if you want a service stack that can interoperate with your company's data centre, this isn't it.
Microsoft: Microsoft's ability to set itself apart from AWS has made Azure the second largest cloud service provider on the market (according to RightScale's 2019 State of the Cloud Report). Though Azure lacks the maturity of AWS, it's a serious competitor when it comes to the size and versatility of its toolset. Most of the essential development tools in AWS can be found in Azure, and it even offers some unique features like seamless integration between the cloud and Microsoft software (like the Office Suite). Unlike AWS, Azure is compatible with your company's data centre, making it a popular hybrid-cloud solution, and its customizable pricing plan is considered much easier to manage.
Google: GCP is definitely an underdog in the cloud services market, but it has gained a lot of traction over the years. Overall, GCP offers a smaller toolset than AWS and Azure, but its deep learning, data analytics, and artificial intelligence tools are unmatched. GCP was also built for efficiency, so companies that require fast services on a budget tend to gravitate toward it. Couple that with its customizable pricing system and loyalty discounts and it's no wonder why GCP is one of the most efficient and cost-effective cloud solutions available. When it comes to storage and database capacity, however, GCP can't compete with AWS.
What's the Deal with Lock-In?
A lot of companies use multiple cloud services in an attempt to avoid lock-in (becoming entirely dependent on one provider's cloud service), but that isn't always the best business move as you will need to incur additional costs and development time to configure your services to work across multiple clouds. Using various cloud services can sometimes provide benefits like reduced spending and increased service applicability, but only if you find the right match and you have the monthly spending levels to need the option to switch.
It's typically more accessible and more cost-effective to centralise your work with one provider, so every company should think hard about whether actively avoiding vendor lock-in (which could harm your agility) is more important than fully utilising a cloud service. After all, managing multiple cloud operating environments has a reasonably steep learning curve. It can work, just make sure that the acclimation period, toolset, and price are worth it in the end.
Of course, the three major cloud providers would prefer that you only use one service. They want all of your business, not just some of it. But that isn't all that bad. Providers tend to sweeten the deal when you migrate all of your data to their platform, which can give you more leverage when it comes to negotiating the best price or scoring discounts and incentives that help mitigate the cost of migration.
What's Best for Small to Medium Companies?
AWS and Azure are the most comprehensive cloud service providers on the market and are typically the most accessible. However, AWS can be more expensive and harder to navigate than Azure and GCP with its larger toolset. According to a 2016 Clutch report, enterprises tend to use AWS for its maturity and massive toolset while small- to medium-sized companies stick with Azure or GCP for their cost-effectiveness and speed. Still, it's important to keep in mind that most companies mix-and-match providers. The most common combination is using AWS as a primary cloud service and then using GCP as a secondary service, but matching AWS and Azure is also popular.
Mind your costs
Time and time again I hear stories of teams and companies who have been caught out by substantial monthly bills for their cloud services. All three cloud providers make it too easy to leave a service running or to increase a service instance size and incur huge costs. Always get a third party cost management service or sign up for the Azure Cost Management service to keep an eye on your costs.
---