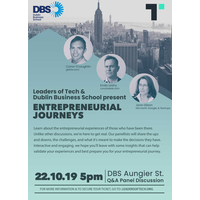 On October 22, Leaders of Tech together with Dublin Business School, we will be learning about the entrepreneurial experiences from those who have been there.
Unlike other discussions, we're here to get real. Our panellists will share the ups and downs, the challenges, and what it has meant to make the decisions they have.
Interactive and engaging, we hope you'll leave with some insights that can help validate your own experiences or best prepare you for your entrepreneurial journey.
The Panel
Conor O'Loughlin
Former Irish Rugby Union player turned entrepreneur, Conor O'Loughlin is the founder of Glofox.com. Launched in 2014, Dublin-based Glofox provides apps and software that help gyms and fitness studios manage their businesses more effectively. To date, the company has raised 15mm euro and opened offices in Los Angeles and Sydney, with locations in Ireland and the UK in support of its international expansion.
Jane Gilson
A startup survivor who transitioned to the corporate world, Jane has held senior appointments at Microsoft as Country Manager, COO and Chief of Strategy. Most recently, Jane led emerging markets at Google. Before her corporate experience, Jane worked at multiple Seattle-based startups in e-commerce and CRM and co-founded her own startup in the Edtech sector, raising $33m USD and employing a team of over 150.
Enda Leahy
Having built a successful career as an investigative journalist and editor, Enda began his entrepreneurial journey in 2016, launching legal intelligence platform, Courtsdesk. Addressing an obvious gap in the market, Enda has bootstrapped his platform and participated in many of the leading UK tech incubators. To date, Courtsdesk.com, named European Start-Up of the Year, has raised 1.2mm euro as they expand their offering in the UK and abroad.
To reserve a spot, be sure to register at: https://www.leadersoftech.org/events/the-entrepreneurial-journey
---