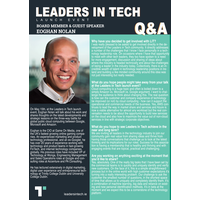 Leaders in Tech caught up with our Board Member, Eoghan, and here's what he had to say.
Why have you decided to get involved with Leaders in Tech?
I was really pleased to be asked to get involved directly in the development of the Leaders in Tech community. It directly addresses a number of the challenges that I know I face personally in a technology leadership role. On occasions where I have that opportunity to meet with with other tech leaders, they too have spoken to a need for more engagement, discussion and sharing of ideas about where the industry is headed technically and about the challenges of being a leader in the industry today. Collectively, there is an incredible wealth of talent in technology leadership positions in Ireland and building a like minded community around this idea was not just interesting but really needed.
Can you tell us a little more about what you are speaking about at the Leaders in Tech launch event?
Sure. It's nothing new that cloud computing is transforming consumer and enterprise computing. Amazon Web Services will turn 17 in July this year, Google Cloud platform is 11 years old and Microsoft Azure will only turn 10 *next year*, so the platforms have been around for a long time. The value that organisations can get from adopting these technologies is well documented as are the challenges of adoption projects. What is important right now is for technology leaders to communicate to their partners the value they are looking for from the cloud computing model, what it can deliver and also what it can't.
What do you hope people might take away from your talk?
Cloud computing is a huge topic and often is boiled down to a simply Amazon vs. Microsoft vs. Google argument. I want to challenge the audience to think about changing this. The real question is how can the customer and company experience of technology be improved (or not) by cloud computing - how can it support the operational and commercial needs of the business. Yes, AWS continues to lead the way in market share and services and Azure is now a viable alternative for almost any workload but the real conversation needs to be about the opportunity to build new services on the cloud and also how to maximize the value out of non-cloud services in line with strategic corporate objectives.
What do you hope to see Leaders in Tech achieve in the near and long term?
Leaders in Tech was founded as a cross-industry, peer-to-peer community with a belief that innovation and new ideas are stimulated and developed most effectively through collaboration. We are inviting all leaders in the technology industry to join our community gain real value from sharing ideas and thrive from having those conversations that challenge us to look at the latest thinking and its implications for our roles. Success for this association is having a membership that is healthy and thriving and with engaging events that are topical, practical and and challenging.
What's a typical day look like for you?
All of our engineers and product teams work in an agile methodology so the core of my role is to keep the weekly rhythm and tempo high and engaging for the teams - with a clear focus on the goal and a regular check on the status. This weekly schedule is integral to our corporate culture so the morning stand-up, demos and retros are the cornerstones of my week. After this it's all about communication, either in 1:1s with the team or in working sessions with the commercial teams working on their problems.
Are you working on anything exciting at the moment that you'd like to share?
Yes, absolutely. One of the really big tasks that I have been set by the commercial teams is to quickly and uniquely identify and verify new customers. On the face of it, this is a simple straightforward process but in the online world with high customer expectations it's turning into a really interesting problem. Our challenge to ask the customer the smallest number of questions, in the shortest space of time that allows us to uniquely and completely identify them. It's a combination of machine learning, big data and reliance on existing and new personal identification methods. It's in beta at the moment and we expect this to be a cornerstone of the technology platform.
---