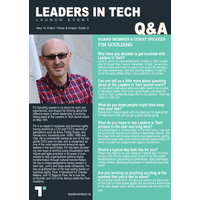 Leaders in Tech caught up with Fin ahead of the launch event, and here's what he had to say.
Why have you decided to get involved with Leaders in Tech?
I love to share my experiences and I've been in Tech Leadership for longer than I care to remember. In fact, I've accumulated so many scars that my scars have scars! So perhaps I can help experienced, new and aspiring leaders in order to avoid the same pitfalls which I encountered in my career.
Can you tell us a little more about speaking about at the Leaders in Tech launch event?
I've decided to talk about what one might need to do in order to become a leader, how to be a great leader and what the future of Tech Leadership looks like (in my opinion). I have decided on a title yet!
What do you hope people might take away from your talk?
People don't always agree with my ideas but I'm hoping that I'll make them think and we get a good debate going.
What do you hope to see Leaders in Tech achieve in the near and long term?
I'm a big believer in Communities. In the short term, I can see the community forming and building a leadership network. But the longer term will be about sharing real experiences, getting advice from each other and sharing potential opportunities. All within a trusted non-judgemental support mechanism.
What's a typical day look like for you?
These days there is no such thing as a typical day! I'm either working with Clients helping them to form or fix their digital transformations, presenting at conferences, doing interviews, writing content, delivering workshops or travelling around the world.
Are you working on anything exciting at the moment that you'd like to share?
My co-author Haydn and I are about to publish our third book on the topic of value-based agility. We also have a fourth book in the early stages which will be published near the end of the year.
---